Olive Participating in GITEX 2008, Dubai
Growth is the only constant at Olive E-Business. Continuing with our endeavour to charm the global e-marketplace with an integrated web services offering, Olive E-Business will be participating in the annual GITEX fair in Dubai. We will be positioned at Hall No. 7, Stall No. E7-41 during the exhibition.
To be held from 19th to 23rd October, 2008 this exhibition will help us conquer the burgeoning online markets of the Middle Eastern region.

We will be there to exhibit our Interactive Marketing brand, JumpHigher, offering services such as Search Engine optimization, Strategic Link Popularity, Flash Website Optimization, Comparison Shopping, Affiliate Marketing, Banner Advertising, and Pay per Click Campaigns, among others.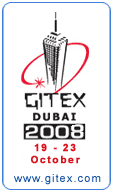 One of the most awaited Information Technology fairs in the world, GITEX has been around for more than 25 years now. With more than 3,300 exhibitors lined up for participation this year, it will prove to be the ideal platform for e-businesses to come together and showcase their offerings to a global client base.
Olive's decade-long experience, coupled with a powerful alliance in the form of Digital Touch e-Business, has helped us cater to a vast and diverse clientele. As service providers, we have accomplished successful delivery of clients' projects, on time and within stipulated budgets.
Our portfolio boasts of names like Rasd Executive Search Consultants, Air Charter International, Damac Properties, Vanguard Marketing, Direct Mee Recruitment Directory, among others, and we are all set to expand this list during this year's GITEX.
To know more about GITEX, visit their website www.gitex.com.
To know more about GITEX, visit our website www.jumphigherme.com.